Rome or Bust Charity Banger Rally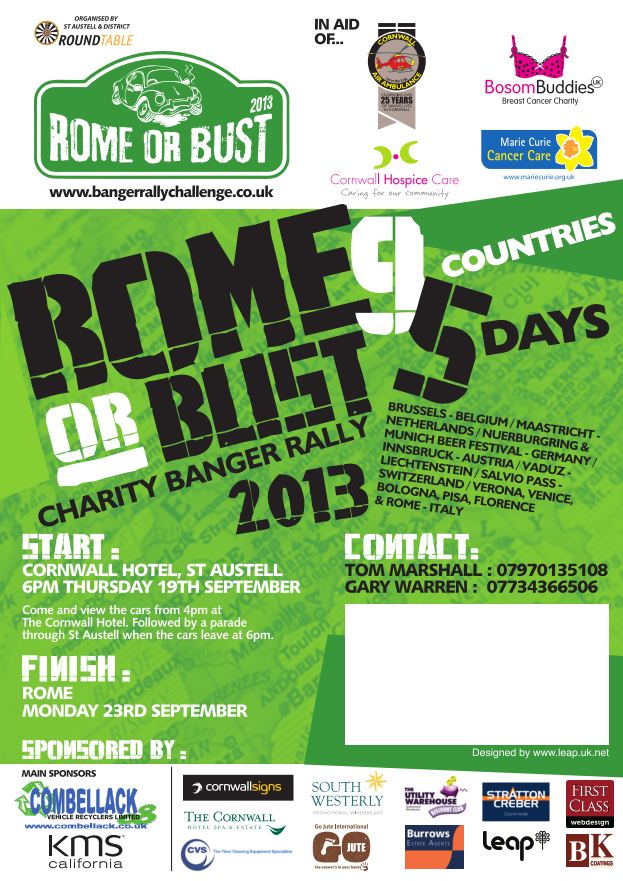 Following on from last year's very successful Banger Rally St Austell and District Round Table would like to invite you to enter the 2013 Charity Banger Rally Challenge from Cornwall to Rome.
This is an opportunity of a lifetime and will give you a trip to remember, driving on some of Europe's finest and most scenic roads. The only snag is that your car has to cost around a measly £350 to be entered in to the Banger Rally category or you may just like to drive a more expensive vehicle which you will not be eligible to the prize money but you can still raise money for charity.
Teams are invited to raise money for our four main charities Cornwall Hospice Care (Mount Edgcumbe Hospice), Bosom Buddies (Local breast cancer charity), Marie Curie and Cornwall Air Ambulance or you could raise money for your own Charity/Organisation but we don't make it a condition of entry.
The rally will start on Thursday 19th September leaving The Cornwall Hotel at 6pm and finishing in Rome on Monday 23rd September. You will need to allow a further day to dispose of your car and fly home or challenge yourself and drive back. We think 5 days charging about the English, French, Belgium, Holland, Germany, Austria, Liechtenstein, Switzerland & the Italian countryside in a rubbish car will definitely be a trip to remember.
To keep you and your passengers amused there will be several tasks to perform on route to earn bonus points, but if you just want to cruise through the countryside without taking part then that's just as cool with us too.
Remember rule number 1, this is categorically not a race across Europe, but a leisurely drive by like-minded people, and there will be no advantage in arriving first. Managing to coax your chosen wreck to the finish point should be rewarding enough but at the final night's presentation ceremony, over £2000 worth of cash prizes will be awarded to the teams scoring the most points in each of the daily tasks and the overall winner will also receive a cash prize and a suitable trophy!
An additional prize of £300 will be awarded for the most imaginative/decorated car and there occupants. Although everyone who takes part is a winner, each participant will also be provided with an appropriately rubbish medal memento on finishing.
The route and stop over points will be confirmed with each team leader, but we can tell you some of the places you we will be visiting - Brussels, Maastricht, Nuerburgring, Munich Beer Festival, Innsbruck, Salvio Pass, Verona, Venice, Bologna, Pisa, Florence and Rome.
You are now probably thinking, will there be support on route!you are joking surely? You really would not appreciate it if we deprived you of the uncertainty each day on whether you chosen chariot will make it to the next checkpoint, let alone start in the morning. Breaking down miles from anywhere, on a mountain pass in a strange country must be top banana in the entertainment stakes and worth the entry fee alone as I'm sure several teams will testify when they arrive back home!
With all this excitement you're probably wondering how much this will cost to enter!
The cost will be £250, which is based on two people sharing a car; additional passengers will be charged at £60 per person. Entrance fee includes welcoming and finishing party, t-shirts, suggested route plan, car stickers, trophy & camping.
Entries are limited, to guarantee a place in this much sought after event a deposit of £100 per car is required.
For further information please go to www.bangerrallychallenge.co.uk or contact Gary Warren 07734366506 or Tom Marshall 07970135108.
Thursday, 19 September, 2013 - 18:00 to Monday, 23 September, 2013 - 23:59
Location:
Cornwall Hotel
St Austell